Toronto Moving Company "AIM Toronto Movers"
Long Distance Moving service: moves within Canada and North America
Long Distance Moving

Long distance moving includes any move that crosses provincial lines. AIM Toronto Movers offers service throughout Ontario, Canada and US, focusing on shipments arriving and departing from Toronto area. AIM Toronto Movers guarantees on-time pick-up and delivery. Whether your destination is Ottawa, Vancouver, or New York, we're proud to offer the best possible service at an affordable price. As a professional and experienced long distance moving company, we will ensure the safety and care of your belongings, so you can concentrate on a new beginning.
Long Distance Services
One item or an entire household shipment
Detailed inventories provided for each move
Guaranteed on time pick-up and delivery dates
Same or next day service throughout the midwest
Binding and not to exceed estimates available
Pick-ups and deliveries performed only by AIM Toronto Movers personnel
Unique numbered tagging system for all items shipped
Customized crating of pictures, glass and marble
Blanket and plastic stretch wrapping of all furniture
Semi-Trailers equipped with air ride suspension systems
Moving Charges

Long-distance moving is based upon the mileage from the Toronto moving origin to the destination, and the cubic footage of your belongings. AIM Toronto Movers will pick your items up from your home and store them at AIM Toronto Movers Storage until the shipment is ready to leave for the destination. Alternatively, AIM Toronto Movers offers pick up at your current residence with a direct delivery to your new home. AIM Toronto Movers will complete a full inventory of your belongings and will safely and securely wrap or box items that require special care.
A few words of advice...
When it comes to moving your personal belongings across the state, nothing is as important as a fully-qualified, trained team of long distance movers. AIM Toronto Movers gives you personal and caring service and a promise to treat your belongings as we would our own.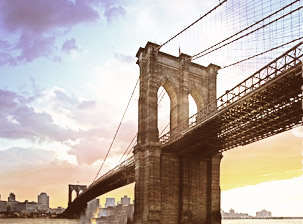 Moving to New York?
Call 647-878-MOVE (6683) now to find out more about our special offers for New York destination!
Moving Testimonials
Moving from Mississauga to Toronto
"Just want you to know how much we appreciate all the nice things you have done for us. We wouldn't have made it without AIM Toronto Movers."

Nancy Warden, Mississauga